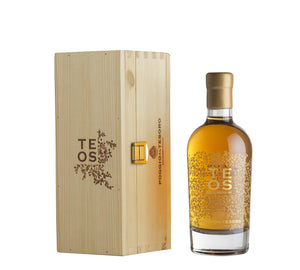 Teos, the ancient Greek city dedicated to Dionysus, is the name of this sweet wine by Poggio al Tesoro. Allegrini's expertise in the appassimento technique has inspired the creation of this Petit Manseng made with partially dried grapes. Teos has an enveloping sweetness that combines satisfying acidity with a deep golden hue, aromas of ripe fruit, jam and honey.
The carefully selected grapes are harvested and placed in 4-kg crates in well-ventilated rooms where they undergo a period of appassimento for around 40 days. Vinification takes place with soft pressing and cold pre-fermentative maceration for one night. Once the must has been separated from the skins, it ferments in oak barrels where it is aged for about 12 months. Bottle ageing takes place for at least 6 months.
The palate is never excessively sweet and is refreshed by a vein of acidity and aromatic nuances of caramel and liquorice. The wine thus retains harmony and lightness, leading to a dry finale that eagerly invites a further sip.
Teos, the wine with an important and evocative name, requires pairings that, in addition to the classic combinations with great dessert wines, are refined enough to exalt its characteristics, such as white chocolate delight and exotic fruit or chamomile ice cream with mango sauce. Daringly successful pairings can be made with a range of fresh, herbed alpine cheeses. Serve at 10-12°C and uncork just before drinking.

100% Petit Manseng