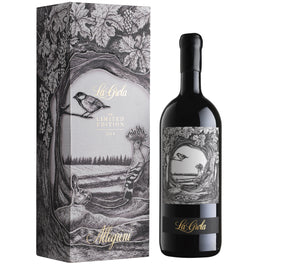 As a tribute to the uniqueness of La Grola, the idea matured of setting up a gallery of artists' labels.


La Grola 2014 was entrusted to Nazareno Rodrigues Alves who, in his enchanting and highly detailed drawings called Insieme, celebrates the rebirth of life and the presence of variegated fauna in the Company's vineyards.

"A natural and joyful experience, a time when it was possible to be there in that world that was magical but at the same time real…" Nazareno Rodrigues Alves

This wine is the extraordinary result of the meeting of two great personalities: the hill of La Grola and Valpolicella's autochthonous grapes. The excellent exposure of the vineyards – which enjoy the sun's warm rays and the cool breezes that comes from nearby Lake Garda – allows the grapes to achieve their highest potential.
Careful, craftsman-like ageing in the cellar yields a red wine with great elegance, harmony and finesse that can evolve well for over a decade.

After being fermented in stainless steel with regular, daily pumping over, the wine is aged in French oak barriques for 16 months, 2 months in large Slavonian oak casks, and 10 months in the bottle.

Deep ruby red in colour, this wine brims with character and personality. It is a wine with a full and enveloping aroma, with hints of blackcurrant, spicy notes of juniper and black pepper, tobacco and coffee. It is fresh and intense on the palate with excellent aromatic persistence.

La Grola is ideal with red meat dishes, roasted or served with gravy, especially lamb and goat. Delicious with stewed or grilled mushrooms and mature, non-sharp cheeses. Serve at 16-18°C and open one hour before serving.

90% Corvina Veronese 10% Oseleta