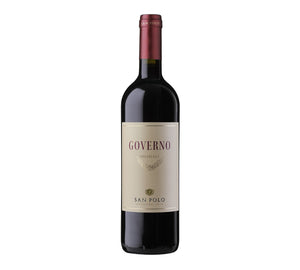 At San Polo we have revived the ancient Tuscan 'Governo' wine making method with a red wine that marries the elegance of Sangiovese with the soft, fruity notes of Merlot and Canaiolo. The ancient technique of Governo and the blend of these varieties create an original, fresh, elegant wine, with delicate hints of dried grapes.
The wine produced at harvest time is fermented a second time with a small selection of pressed, slightly dried grapes. The wine is then aged in second-use French oak barrels for 10 months, in steel vats for 2 months and in bottle for another 2 months.
A deep ruby red colour with purples highlights. The wine exhibits aromas of red berries and sweet prunes. Well-structured, velvety and persistent on the palate, with soft tannins.
Ideal with meat-based dishes, especially with game accompanied by berry-based relishes. Excellent with mature or blue cheeses. Serve at 14-16°C and open an hour before drinking.

80% Sangiovese 15% Merlot 5% Canaiolo