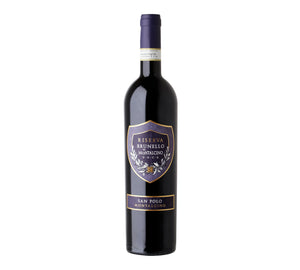 At San Polo, the Riserva is produced only in truly exceptional years. In the first few days of the harvest, the finest, most perfectly ripe bunches are meticulously monitored so that they achieve ideal ripeness. The healthiest and most mature grapes are then very carefully harvested.
Further selection is then carried out in the cellar by using a sorting table to remove any imperfect berries and stray vegetation.

Brunello di Montalcino Riserva is vinified in 2000-litre truncated conical vats, with long macerations and daily punching over that allow us to produce a wine with great structure and longevity. It matures for 36 months in 1000-litre Slavonian oak barrels, 500-litre tonneaux and 600-litre demi-muid French oak barrels and is aged for at least 8 months in the bottle. Lengthy ageing and judicious use of wood lend further elegance to this wine, which is loved and sought-after by the greatest wine connoisseurs in the world. At San Polo, the Riserva represents the highest possible achievement in terms of quality and excellence, which Allegrini pursues with absolute respect for the environment.
Bright ruby red with garnet hues, it opens with aromas of woodland berries such as blackberry, blackcurrant and blueberry, followed by liquorice, spices and intense balsamic notes. The tannins are well-chiselled, and the finish is long and with extraordinary aromatic persistence. This is a wine with great structure and concentration, which is striking on the palate for its intensity, elegance and great balance.
Ideal with Fiorentina T-bone steak, boar, lamb, suckling pig and game-based dishes and very mature cheeses such as Parmigiano Reggiano, pecorino, provolone and Castelmagno. Serve at 16-18°C and open at least two hours before serving.

100% Sangiovese